What Cleans Foggy Headlights?
In a minute you're going to find out which product the data says is are the best headlight cleaning kits.
But first:
Let's discuss 3 auto problems we're all too familiar with that are caused by Phoenix sunlight…
First, the need to replace windshield wiper blades yearly due to dry-rot, but the UV rays don't stop there. Second, they cook car paint and interiors. And third, they oxidize headlight and turn them foggy, which is our topic for this DIY auto tip.
In Phoenix, you can look at any car or truck a couple of years old, and you'll see cloudy or foggy headlight lens. Your lenses are probably foggy, too! Why is this?
Most twenty-something-year-old drivers wouldn't remember when headlights were round or rectangular bulbs. The perfect example is an old Mustang with round headlights…
Nowadays headlights are molded plastic assemblies with a small halogen bulb that clips in. Enough history for today, back to our main topic…
Which Are The Best Headlight Cleaning Kits?
Well:
Before we go any further let's break this car problem down.
The solution we're looking for needs to do 3 things:
It needs to remove oxidation. Oxidation is the cloudy film that builds on the lens surface. The same thing happens on car paint, too. But car wax is another topic we'll cover another time. It needs to clean lenses.
Once the oxidation is cleaned off, the product needs to repair the headlight lens surface, so the plastic is clear again. Just sanding off the film isn't enough. We want a 'like new' lens when we're done. It needs to shine!
It needs to protect the headlight lens surface from future oxidation and discoloration. Protect.
And I'll throw in a 4th requirement…
The cleaner needs to be easy to use so anyone can follow the steps safely and clean their headlights.
Now let's see which product is the best car headlight cleaner…
Headlight restoration kits.
After reading far too many Amazon reviews about which headlight cleaner works the best I have found 3 cleaner kits with above average reviews.
But I have a dilemma.
I only need 2 kits to compare because I only have 2 cars.
Hmm…
Here's what I'm going to do.
I'm going to use my Amazon Prime and buy the top 2 reviewed kits. I'll test one on my car and one on my wife's car.
Yes, both cars have foggy headlights…
Unfortunately for the 3rd headlight restoration kit, I'm not going to be able to compare it against the other packages.
What I'll do is post the data for the 3rd kit so you can compare it, too…
---
Comparing Best Headlight Lens Restorer Kits (Data current as of 7/1/2017)
Ready, let's do this!
#1. Let's start with a brand we all know and trust around the house, 3M.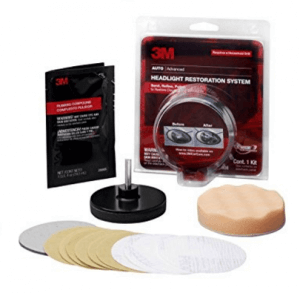 3M 39008 Headlight Lens Restoration System
The 3M kit ranks the highest, and at this writing, is in the top position on Amazon.
Listed as a Best Seller
4,192 Reviews
Average 4.5 Stars
Sold and Shipped by Amazon
Eligible for Prime Shipping
3M 39008 Headlight Lens Restoration System Product Details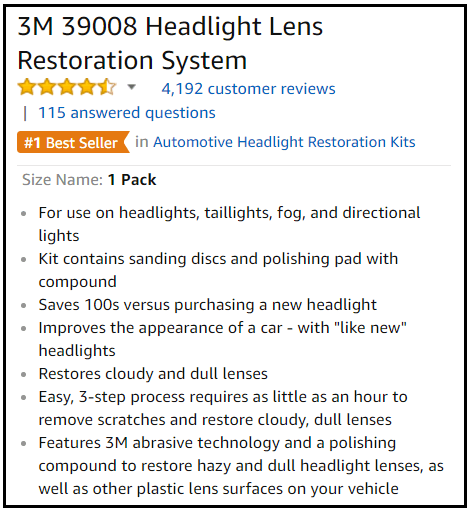 Starting with product #1, here's the current price…
#2. Next on the list is another brand we know, but this brand is more associated with electronics. Let's welcome…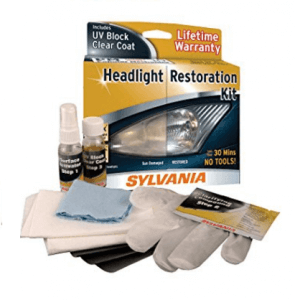 SYLVANIA Headlight Restoration Kit
The SYLVANIA kit comes in 2nd place…
Listed as a Best Seller, too!
2900 Reviews
Averaging 4.5 Stars
Sold and Shipped by Amazon
Eligible for Prime Shipping
This kit is not as popular as the 3M, but I guess it's due to the difference in price.
SYLVANIA Headlight Restoration Kit Product Details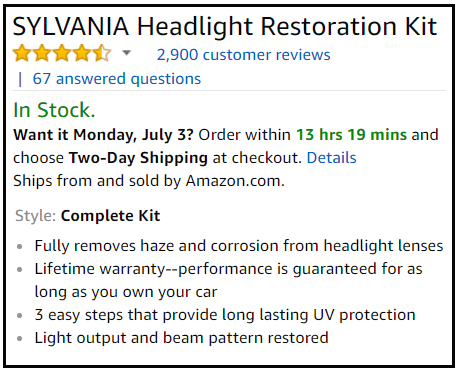 And now for product #2, here's the current price…
#3 Coming in a close third on the list of best headlight cleaning kit is another brand we all know. Let's hear it for Turtle Wax!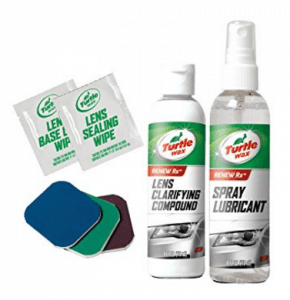 Turtle Wax T-240KT Headlight Lens Restorer Kit
What would cars look like without Turtle Wax? About 20 years ago I had a red Cutlass Supreme that I used to wax all the time with Turtle Wax. When I was done, my hands and every towel in the house was red. But it got the oxidation off, and my car was shiny!
Alright already…
The headlight cleaning kit by Turtle Wax came in close for 2nd place…
2008 Reviews
Averaging 4 Stars
Sold and shipped by Amazon
Eligible for Prime Shipping
Don't get mad at me. I'm only telling you what the data says.
Turtle Wax T-240KT Headlight Lens Restorer Kit Product Details
And last but definitely not least, product #3, current price…
---
Watch this video on how to clean headlights…
Which Headlight Cleaning Kit Will be the Best?
As I said in the beginning, I'll go with the data because I need some heavy duty headlight restoration…
So it looks like I'll be comparing the 3M vs. the SYLVANIA headlight cleaner kits to see which is the best foggy headlight fix.
It'll be a week or so before I post the update from my test results so stay tuned.
You don't need to wait for me.
Go ahead and order one of the headlight lens cleaning kits online via one of the links I provided (save the trip and frustration of standing in line).
Or drive on over to Walmart, Autozone or Pepboys and see what kits are available near you.
My guess is they'll all have similar foggy headlight cleaners and as long as the solution does what we agreed:
Cleans, polishes and protects, we're all good.
I wish there were something the car manufactures would do to improve the headlight lens so we wouldn't have to hassle with cleaning oxidation off plastic headlight lenses. Although, I'm sure Lexus and Mercedes Benz don't have this problem? Hmm…
I'll have to inspect the next luxury car I see in the parking lot at work to see if pricier cars have a glass or plastic headlight lenses. Hopefully, the security guard doesn't think I'm breaking into the car and arrest me!
I can hear myself telling the guard, Nah, I'm good. I'm just checking to see if the lens is plastic or glass…
DIY Tip:
That does it for this DIY Gotcha Garage Tip. Please feel free to share your comments and feedback below, and share this tip with someone on social networks…
Don't go another day with foggy headlight lenses now that you know how to clean them!