Fixing Cars For Beginners (10 Basic Auto Mechanic Guides for Dummies Like Me)
Owning a car can be costly, especially if your wheels are always breaking down. That's why we put together these Fixing Cars For Beginners Guides…
What you'll find on this list of guides includes a helpful used car inspection checklist to help new drivers avoid getting scammed as well as useful tips for common car and engine troubles and repairs.
But listen, when you're at the point where you absolutely have to take your car to the shop then also included in the list is where you can find the best mechanic in your city.
So with expectations set, let's dive in and see what beginners can learn about fixing cars…
Basic Car Mechanics
When it comes to basic car mechanics you need to know a few things.
For example, do you know where your vehicle owners manual is?
If so, have you ever opened it?
Look, before you go out and spend money on a Chilton Manual you should first read or at least skim through your owners manual.
You'll be surprised how much you can learn about your vehicle from this book that's locked away in your glove compartment.
Take it out, read it – and learn the basics…
Now, let's pick up the pace…
Fixing Car For Dummies
In the fixing cars for dummies section, we're going to cover the common problems car owners deal with.
#1. Your car won't start.
All it does is click which means you could possibly have a dead battery. Do you know where your battery is?
Hmm… Bet if you check your owners manual it will tell you where your battery is located.
We've also created this guide for troubleshooting a dead car battery.
#2. You're driving along and your service engine light turns on.
Do you know what that means?
You guessed it – check in your vehicle owners manual for what your car could be telling you.
Read this guide on service engine light for more information before you schedule a maintenance.
#3. Similar to number 3 but very different is when you're driving along and a check engine light turns on.
Unlike the service engine which could be reminding you about regular maintenance, a check engine light means something is wrong somewhere.
Cars have sensors everywhere that communicate with a computer system and when something is out of the norm, the sensor will alert the computer which will turn on the service engine lamp.
My guess is your owners manual will tell you to take the car to the dealer for a checkup. You can also read more about check engine light in this guide.
Fixing Cars For Beginners
As you can see from the list so far a lot of what happens to your car can be found in your vehicle manual.
Now, we're going to crank it up even more and go beyond just fixing cars for beginners.
Let's troubleshoot something really interesting…
#4. It's been getting worse and now you can't ignore the shimmy you feel in your steering wheel while you're driving.
Doubt you'll find anything about this problem in the vehicle manual but go ahead and look.
My guess is it's going to be one of a few things you can check on your own.
In this guide, there are 3 possible reasons your car shimmies…
Read it and troubleshoot to see what you think it is before going to the shop.
#5. This car problem can cost you $50 or it might cost you a small fortune to fix.
And if you live somewhere like Phoenix where it gets to 120 degrees in the summertime, you'll definitely want it fixed.
If you guessed I was talking about your car's air conditioning, that's right – A/C problems suck.
Here are a few examples of how much A/C repairs cost:
First, I recently had to refill my car's A/C using one of those kits you can buy at Auto Zone for $50 or on Amazon for about $30.
Second, my 2 co-workers weren't so lucky and couldn't just do the A/C refill. One guy had a Honda that cost him $2000 and the other guy had a Ford Pickup that cost him $1200.
Both guys needed repairs that included the compressor replaced as well as all the other parts that get swapped out when mechanics open up the A/C system. I was lucky… 🙂
In this guide, you'll learn how to diagnose your air conditioner problem before you take the car to a mechanic.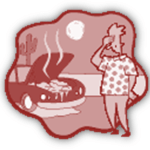 #6. This next car problem also normally happens in the summertime.
But you'd be surprised how easy your engine can overheat during the cool months, too.
Overheating is no fun, especially when you're on vacation and your temperature gauge pegs out on the high end. Then your overheat dash lamp starts glowing "RED" because your engine is mad as hell…
The sad truth is sometimes the culprit is a small part the size of a radiator cap that causes your vacation to become a living nightmare.
Look, a bad radiator cap will let valuable engine coolant leak out dip by dip over days, sometimes weeks.
This is why you should always take a few gallons of extra water with you on long trips. Also, check your fluid levels before leaving and during regular vehicle maintenances such as oil changes. Read this guide and try to avoid getting stranded…
Motor Mechanics For Dummies
Look, you don't need to be a certified mechanic to check fluids, tire pressure, wiper blades and a few other common maintenance checks that will keep your car humming along.
I think motor mechanics for dummies just comes down to doing what you can do on a regular schedule so you're not spending your vacation broken down in Death Valley when you should be in Vegas.
Now, we've covered a lot and I'm sure there are people that are reading my guides and saying – I can't do this – I need a mechanic!
That's OK because the next guide is for you…
#7. Where can I find a good mechanic I can trust?
This is every used car owners fear…
I know personally how a car problem can keep you up at night because I have 4 cars to take care of and the're all older models.
Here's my list of older cars that require TLC:
2003 Nissan Altima
2005 Honda Civic
2008 Nissan Sentra
2010 Nissan Altima
And none of my cars have a dealer warranty so I do a lot of DIY auto repair to save money.
But when it does come time to take one of these vehicles to the shop here's how it goes.
First, I make sure it's nothing I can fix…
Then, I check here for a mechanic near me with the top rating and best reviews from happy customers.
You can also read these auto shop guides where I go into more details about shopping around for trustworthy auto shops.
#8. This was mentioned at the beginning and now let's share more info about the used car checklist.
The checklist covers bumper to bumper and includes 31 highly detailed checks or inspections of every section of a vehicle that could cost you big if you miss something broken or damaged during your pre-sale vehicle inspection.
Here's the link to the used car checklist, I recommend reading it even if you're not buying a used car – it will help you learn all about a vehicle's critical systems, that are often overlooked.
Also, here's a bonus for you. If you're into installing your own car accessories, then you'll like reading about dash cams because they're amazing for recording road trips in 1080p HD video.
#9. I know this next auto repair isn't as exciting as your engine overheating but it's more important.
This $10 part can really ruin your day if you have an accident during a rainstorm because you can't see through your windshield because your wiper blades are smearing the rainwater instead of wiping it off.
Look – worn, ripped or broken wiper blades are easy to replace and yet most drivers in a rainstorm have poor visibility because of bad wiper blades.
Check out this guide that has a video on how to replace wiper blades and where you can buy wiper blade replacements online so you don't have to wait in line at Auto Zone.
#10. We see cars all the time with this problem, you probably do too.
The next time you're in a parking lot look at all the cars and trucks around you and see most of the older models have cloudy headlight lenses.
Ever since car manufacturers started using plastic headlight assemblies instead of glass headlights, cloudy lenses have been a problem.
I recently had to clean the lenses on the Civic and the 03 Altima because both vehicles had dim headlights.
They were both about 30% degraded at night because of the nasty film that built-up on the plastic lens. This guide will help you pick which headlight restorer kit to use.
Auto Repair Basics
So you see, fixing cars for beginners doesn't have to be a pain.
It just takes following a regular maintenance process for the items you can take care of yourself, and knowing the basics in case you have to diagnose check engine lights, overheating, or A/C problems.
On Gotcha Garage, we believe basic car mechanics comes down to following a plan, which is why we showed you that fixing cars for dummies, in many cases, is as easy as reading your vehicle owners guide.
Look, when the car problem is outside your level of comfort – take your vehicle to the shop and let a professional mechanic do the heavy work. But on small repairs, dive in because motor mechanics for dummies is for DIY mechanics like us…Thanks for reading!