Windshield Wiper Problems (Blades Shipped Direct To You)
Your wiper blades don't work!
That's what you found out the last time you turned them on…
..and it's been a few more months since that last rainstorm!
Hmm. What's worse, bad wipers or a dead car battery?
Common windshield wiper problems:
Wiper blades fall apart
Wipers smear the water
Wipers scratch the windshield
Don't wait for the next storm to hit before you replace your wiper blades.
Monsoon Season In Phoenix
I recorded this monsoon storm video on 8/2/2016, traveling west on Indian School Road; driving home from work. Cars were stalled in the middle of the road (as you can see, I didn't have a windshield wiper problem and my wipers were working!)…
DIY Wiper Blade Installation
If you're like most people then you're driving around with wiper blades
that don't work. They just smear the rain around!
I get it:
We know it doesn't rain often in Phoenix but when it does rain you need to be able to see clearly through your windshield.
Especially if you're driving with kids in the car. You need wipers that work.
Hey, you not only need to see clearly so you can drive safely but also so you can see other drivers who can't see you because their wiper blades are dried or broken. Hence, their wiper blades are just smearing rain around…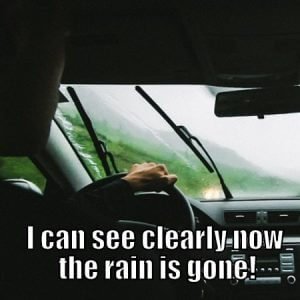 As a matter of fact, most cars around you in a rainstorm likely have bad or broken wipers…
Look:
Wiper blades last about a year in Arizona, sometimes they'll last longer if you don't park your car in the direct sunlight, but most of the time, wipers only last a year.
It used to be that you could buy the inserts for your wipers, just the blade, but seems nowadays most auto part stores only sell the complete wiper blade assembly.
Actually, for the DIY, the assembly is easier to install (watch the video below).
You just pinch the click and slide the old wiper blade out, and then slide the new wiper in until it clicks in place.
The real trick is making sure you buy the right size wiper blades. Most cars will have a long and short blade, usually, the longer blade is installed on the driver side.
But don't just install the blade on the driver side, also install one on the passenger side too. You need both sides of the windshield to be clear for when you're driving in hazardous weather.
I recall last year it rained so badly that even with good wipers on both sides it was hard to see.
So which wiper blades should you buy?
Well, there are so many choices I usually just buy the brand that's on sale.
Like we already covered, blades will only last about a year in the Arizona sunlight…
You can get a good pair of wiper blades for about $20 at Walmart, that's where I go when I need fast auto parts near me.
I love my Prime!
Or if you're an Amazon prime customer like me, you can get blades shipped to your home in 2 days for no additional cost.
Mine wiper blade order arrived last week and I've already installed the assemblies on both cars, seems my Altima and Sentra both take the same sizes, 26 and 17 inches.
But if you're not sure what size fits your car you can ask at the parts counter (you can also read the DIY tips below), or if you're like me and want your windshield wiper blades shipped direct to your house, you just enter the make, model and year of your car and Amazon will tell you if the wiper blade fits your car.
Saves Time:
Having wipers shipped to my home saves me time and the hassle of waiting in line behind somebody asking too many questions.
When it comes to DIY auto repair, I usually buy my auto parts on Amazon, and use Amazon Prime to get free 2 day shipping. Sweet!
Watch this DIY video on how to change wipers on a Honda Civic
DIY Tip:
Not sure what size wipers fit your car? Double-check the RainX website to get your wiper blade size before you order them on Amazon…
Don't be caught in a rain storm with bad windshield wiper blades, get blades shipped directly to your home!